Reservation is mandatory due to Covid19
Observing these booking conditions and agreeing to comply with the attached COVID-19 Charter are integral parts of your reservation.
Please notify us of changes or cancellations by telephone (+41 (0)27 761 14 38), at the latest 48 hours before your arrival.
While we do not require you to pay a deposit, if we are not notified of changes or cancellations as above, we reserve the right to charge the full amount due for the booking.
For group reservations, we require that numbers be confirmed at least 1 week before the arrival date.
COVID-19 Charter:
Agreeing to comply with this Charter forms an integral part of the booking conditions.
If you don't agree with this Charter, please delay or cancel your stay.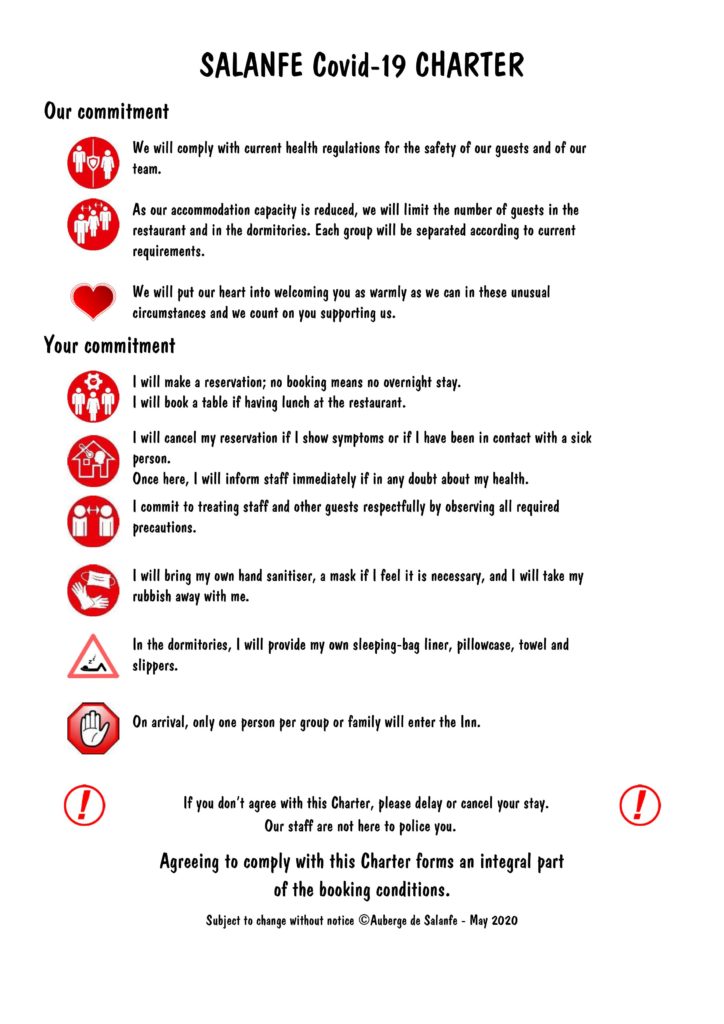 Useful information for your stay with us:
Check-in before 6pm, check-out before 9am.
The evening meal is served at 7 p.m. (single service, no orders from the menu) and breakfast is available from 6.30 to 8.30 a.m.
Picnic lunches may be ordered at a cost of CHF 15 per person.
All our rooms have a balcony on the lake side. Duvets and towels are provided and there is a handbasin in the room.
Showers are available on each floor.
For hygienic reasons, use of a sleeping bag liner is compulsory in the dormitories and bringing your own pillowcase is highly recommended.
Cash payments (in Swiss francs and Euros) are welcome, as is payment by card (Maestro, Postcard, Visa or Mastercard).
Dogs are accepted on certain conditions: for stays in private rooms, not dormitories; one dog per room; kept on a leash.