The gravity dam in Salanfe has a storage capacity of 40 million cubic metres. It is 52m high, with a width of 40m at the base and a top length of 608m. Made up of 42 blocks, mostly measuring 14m in breadth, its total volume consists of 230 000 cubic metres of concrete.
History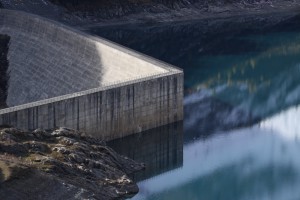 The post-war years saw a significant economic boom take place in Valais. The canton experienced a period of buoyant demand and full employment with the construction of various hydraulic works such as the Grande Dixence, Mauvoisin and Moiry.
In 1947, Salanfe S.A. was founded. Its share capital was split equally between EOS and Lonza. Once this new company had acquired the necessary leases from the relevant communes, the construction of the project was assigned to EOS. The first turbine was commissioned on 30 December 1950. The total cost of construction was 77 million CHF.
Collecting System
The water collected in Salanfe Dam comes from two catchments basins:
The Salanfe basin, with a surface area of 18.4 km2, is bound by the Dents-du-Midi, the Tour Saliere and Luisin. The water caught there drains by gravity into Lake Salanfe.
The Saufla basin, which has a surface of 3.4 km2, is located on the other face of the Tour Saliere.
Water from the eastern Saufla River drains by gravity into a collection system gallery of 4.170 km, which then passes underneath the Tour Saliere and flows into the Salanfe Dam.
Water from the western Saufla River is stored in a basin of around 5400 m3, then pushed back into a collection system gallery with the aid of the Clusanfe pumping station, built in 1952.
As for the lower basin of the Saufla, it holds approximately 20 000m3 of water which is pushed back into the collecting system gallery by the Gietroz pumping station, commissioned in July 1965.
Plugging work was carried out on the basin between 1991 and 1994. By means of a gallery dug into the rock, injections of cement were placed into the geographically permeable zones to create a waterproof layer 600m long and between 60 and 150m deep.
Penstock
Salanfe Lake is connected to the penstock by a gallery 621m long, with an equivalent diameter of 2m. The penstock itself is 4 686m long with a diameter which varies between 1.3 and 1.1m. It is made up of three sections:
The upper run, with a moderate incline (43.75 %)
The intermediate run with a very slight incline (0.5%)
The lower run with a very steep incline (94.62%)
Power Station
The Miéville power station is underground. With an installed capacity of 80MW, it contains two 35 MW horizontal axis Pelton turbines with a maximum output of 7.2 m3/s. They are linked to network 65 on the B-Valgrid. The annual production of the power station averages 120 GW.
Access to the dam is via a cable-car, which runs along the penstock.
The communes which own the water are as follows:
Salvan, Vernayez, Evionnaz: Salanfe catchment basin
Champéry, Vald'Illiez, Troistorrents, Monthey, Evionnaz: Saufla catchment basin