The most magnificent alpine pasture in Switzerland, "The Marvel" as Emile Javel named it, was an inspiration to many Romantics. The writings of Javel, Rambert and others led to the development of the surrounding villages of Salvan, Finhaut and Champex, with a predilection for Salanfe.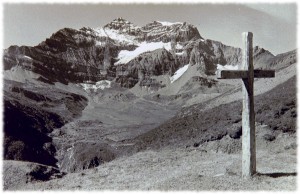 The alpine pasture served as a starting point for many mountain races. The first Dents-du-Midi hotel opened its doors in 1898, to welcome the many tourists drawn to the area by Salanfe's reputation.
Who could be surprised then, when at the beginning of the century and following the sale of the small Barberine valley to a French-Swiss company, that people began to clamour for the protection of this "splendid arena"? During a literary week, on 20 September 1913, Louis Debarge went so far as to call for the creation of a National Park from the Vallon de Van to Salanfe, similar to the one which had been established in the Grisons.
But, coming back to the daily reality of life in this little corner of paradise: as the property of the four bourgeoisies of Vérossaz, Massongex, St-Maurice and Evionnaz, Salanfe was to go through several years of uncertainty and upheaval. An act brought in in 1870 allowed the Commune of Evionnaz to formally obtain jurisdiction over Salanfe. This then allowed it to sell the hydraulic potential of the Salanfe River, along with the right to construct a dam across the plateau so that the water could pool. This sale was to cause a mighty controversy, initially between the Communes of Evionnaz and Salvan, who also claimed to have rights over Salanfe, and then with Vérossaz, Massongex, St-Maurice, who stood to lose their pastures, absolutely vital at the time, if the construction of the dam went ahead.
Following this, the issue of damage to the environment was raised in the press, particularly French-speaking. The ensuing controversy went as far as the Council of States. Indeed, the construction of the dam meant above all the end of the famous "Pissevache", the spectacular waterfall at the entrance to Valais. In the end, the actions of the environmental defenders were not in vain, as finally the hydraulic project developers left enough water for the Pissevacheto maintain a reasonable flow.
In 1947, the company Salanfe S.A. was founded, of which the share capital of 18 million was split between the two founding companies, EnergieOuest Suisse (EOS) and Lonza.
It was EOS which undertook the construction of the Salanfe dam. The land and buildings were expropriated to allow the flooding of the plateau. The duration of the lease was set at 80 years, dating from the commissioning of the first turbine on the 1 January 1952.
The body of water is situated at an altitude of 1925m; the dam is 52m high and the volume of water it holds is up to 40 million cubic metres.